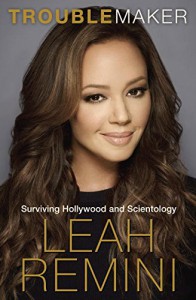 Troublemaker: Surviving Hollywood and Scientology by Leah Remini is one of the best celebrities bios I've read in years. Leah is a very engaging writer as she talks about her entire life from when she was a young child, her path to acting, and Scientology. This is witty, honest, raw and very heartfelt. You can't help by admire Leah for her forthright manner, as well as her dedication and loyalty to her family, including those in Scientology. Her dedication as a follower of Scientology for thirty yearsis fascinating as she breaks it all down in her memoir.
Leah wasn't born with a silver spoon in her mouth. She worked hard to get where she is today. I really enjoyed her stories about growing up in Brooklyn, and how she turned to acting. She has great things to say about the people she worked with, including Tony Danza, Alyssa Milano and Kevin James. She gives a lot of love to Jennifer Aniston, who tried out for Friends with Leah. Not getting the part on Friends still haunts Leah to this day because she knew it would be life changing. She's great friends to Mark Anthony and Jennifer Lopez, who she raves about and adores. The love she has for her husband and her daughter, including her mother and sisters is very strong. The one scene about her newborn daughter only quieting down when Teletubbies was on TV was too cute and funny.
Leah's views on Scientology is intriguing, and why she welcomed it and lived it for 30 years or longer helps you understand why so many call themselves Scientologist, even with the stigma and controversy behind it.. She explains everything in great detail and why she stuck with Scientology until 2013, even after she saw the cracks within, mainly because of David Miscavage and Tom Cruise. Also, she spent upwards to $5 million in donations to what she now believes is a cult, only because of those running it like Miscavage ruined all that was good she felt Scientology promoted. Her stories about being in Tom Cruise's inner circle is bonkers. The scene about Tom flipping out about cookie dough, and his wedding to Katie Holmes is like a horror movie. Everything freaky about Scientology and how Miscavage and Cruise use it to their advantage is all true. This is juicy stuff and will keep you riveted as you read.
Troublemaker is a no holds barred book from the heart. Leah makes no excuses for herself, and accepts her actions and consequences, including her relationship with her husband she's had for over two decades, and how he was still married when they became a couple. That chapter about their relationship was equally fascinating, including how Scientology played a role in their future marriage.
I applaud Leah for opening her life in such a way, and showing the world who she is and why she was a Scientologist. She comes across as very loving and supportive to those around her. if you enjoy celebrity bios, you need to read this one. Excellent from beginning to end. Troublemaker should make trouble for Scientology and why it's really a disturbing cult with the focus to steal people's money.