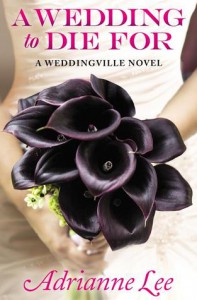 A Wedding to Die For by Adrianne Lee is a cute mystery set in a small town, surrounded by the zaniness of a high profile wedding, and two best friends trying to survive the madness as murder and decade old secrets come to light. Also the small town is literally called Weddingville, so the quirky factor is high here.
Daryl Anne and Meg are best friends from childhood who return to Weddingville where Meg will get married to her Hollywood actor fiance. Both women work in Hollywood but still love their hometown roots. Daryl's mother runs a bridal shop. Meg's father runs a diner. Meg hasn't heard from her mother in years ever since she left her family for something better. Meg is stressing out, and Daryl Anne is stressing along with her as her maid of honor. Meg's fiance wants to keep their wedding under the radar and away from the paparazzi. But then Meg's mother comes back to town out of the blue with a photographer in tow. It appears that Meg's mother Tanya moved to California and only started talking to Meg after she got engaged. Meg invited her mother to her wedding, which causes a whole slew of headaches. It also appears Tanya may or may not have had an affair with Daryl Anne's dead father. Also Tanya doesn't care if she is making everyone close to Meg and Daryl Anne miserable.
But someone wants to stop Meg's wedding from happening. Could it be her ex-boyfriend and teenage love, Troy? Could Tanya want to stop the wedding for her own personal reasons? But as the wedding ceremony begins, it comes to an end because Tanya has been murdered, and Daryl Anne's mother is a suspect. It's up to Daryl Anne, and her old friend Seth, the town photographer, and her old crush to help her find the real killer.
A Wedding To Die For is a great mystery with a touch of romance. Everyone is a suspect, although you won't figure out who the killer is until the very end. The cast of characters are very flavorful and personable. Daryl Anne is a likable protagonist who wants to do right by everyone, including Meg who gets more than she bargained for by marrying a hot shot Hollywood actor, and a witch of a mother who only cares about herself.
This is one book that would be a great adaptation as a TV movie for Lifetime or the Hallmark Channel.