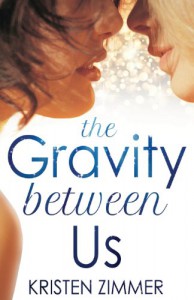 The Gravity Between Us is the first book I've read by Kristen Zimmer. I wish more authors like Kristen were writing books like The Gravity Between Us because it doesn't rely on the annoying tropes found in most New Adult books. Plus, it's a LGBT romance about two lifelong best friends, both female, who love each other deeply but have to figure out how to make things work between them. There isn't that much over the top drama or eye rolling angst with these characters who make sense in their actions and thoughts. That's something I really appreciated as I read.
Payton and Kendall are well rounded and realistic young women who are trying to come to terms with their feelings for one another. Payton is nineteen and going to college for music. Her best friend Kendall is an up and coming Hollywood It girl (I kept seeing her as Jennifer Lawrence). Kendall loves acting but she's starting to feel the pressure of Hollywood and the certain role she's expected to play. Payton is thrilled for Kendall's success but she had doubts about where their relationship is headed. Payton has always known she's been a lesbian, although she doesn't reveal this until Kendall's last visit home. Kendall is very accepting and supportive. Payton breathes a sigh of relief but her feelings for Kendall are deeper and more intense than just friendship.
Kendall had no idea Payton was gay, but she's not bothered by it. But then her own feelings for Payton begin to change. Kendall is in a movie where she plays a bi-sexual rock star and has a scene where she kisses another woman. When she plays out this scene, and the kiss involved, all she can think about is kissing Payton. Now Kendall is confused because she wants a shot with Payton, but she isn't sure how because if she dates Payton, and admits she's gay, she may ruin her chances as an actress in Hollywood.
The Gravity Between Us is well written with a main couple you sympathize with, but when all is said and done, it ends up as a forgettable read, or what I called a so-so book. The biggest road block here is Kendall's reputation and how her love for Payton could ruin her career. Other than that, there's not much else to the story. The Gravity Between Us has a lighter tone to it, which some readers may find boring. I was hoping for more excitement but was left with an underwhelming feeling. That WOW factor I had hoped for is missing here.
I will say that Kristen makes sure that Payton and Kendall are very open and honest with one another and their love scenes don't disappoint. Also, there are no cliches involved when Payton and Kendall admit to their family and friends what they've been hiding. That was a nice element.
Even with these issues I had, Kristen Zimmer does have something special with her writing others may enjoy. I'll definitely keep my eye on any future books from this author.