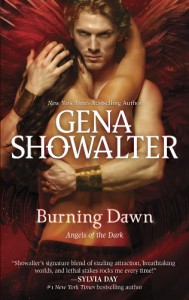 Die hard fans of Gena will love this book, especially the tortured Thane. Burning Dawn is very different from the first 2 books in this series. It's also much darker and depressing. Thane is also into pain and the ultimate man-ho who loves to dish out pain to his sexual partners, until Elin of the magic vag jay jay/hoo haa comes along and heals him.

The first few chapters are very confusing. I had to re-read the first chapter a few times to understand what was going on and who is who. Also at times I struggled following the dialogue because I didn't know who was speaking, which seems to be an editing issue.

Also, the dark subject matter seemed some what canned and tries to pushes the envelope but left me underwhelmed. Also the snark and dark comedy humor from Elin's girl friends became very annoying after a while and really made Burning Dawn a less than thrilling read.

Something was off with the writing and character portrayal here. The love scenes seemed like that were tacked on and seemed very cut and dry even with the descriptive nature of the sexual acts.

Burning Dawn was a disappointment to me, although I am interested in reading Thane's two best buddies.